All Mormon churches are open to the public to visit and worship with us on Sundays.  I've been a Mormon all my life and have attended Mormon churches in many US states and many foreign countries.  Without exception, all of them are open to the public on Sundays.
Since Mormon churches are, in some respects, different from other churches, I thought it'd be helpful to write this post explaining how to attend a Mormon church, what it will be like, and things that could help to know beforehand.
How to Find When and Where You Can Attend a Mormon Church
It's really easy to find a Mormon church to attend.  Just go to this website and type in your address.  It will show you the "ward" (congregation) you are assigned to attend.  Click the name of the ward and you'll see where they meet and at what time their worship service starts on Sunday.  We usually attend in the ward where we're assigned (just to keep things organized), but you're of course welcome to attend any Mormon church.
At most Mormon churches, more than one congregation meets in the same building at different times.  That website will tell you when the worship service begins.
How to Attend a Mormon Church Service
Just show up!  It's not strange at all for a new person to come to a Mormon church.  It happens almost every Sunday.  After you find out when and where the worship service is on Sunday, just drive to the church, park, and walk in.  Take a seat and enjoy the service.  Later I'll explain more about what that's like.
If you don't feel comfortable just showing up, you have two good options.  (1) If you have a Mormon friend or acquaintance, ask them if you can go to church with them.  I promise, 100% guaranteed they will be EXTREMELY happy to have you ask.  Sometimes we Mormons feel like we want to share our religion, but we don't want to bother those who aren't interested.  So if you know a Mormon, just say "Hey, I've been wanting to check out your church.  Could I go with you some day?"  I promise they'll be happy about that.
If you don't know any Mormons and you don't feel comfortable just showing up, then give the missionaries a call.  The missionaries are young members of the church who help new people feel comfortable at church and learn about what we believe.  Just go to this page and ask to talk with a missionary.  You'll have two very excited people ready to bring you to church with them.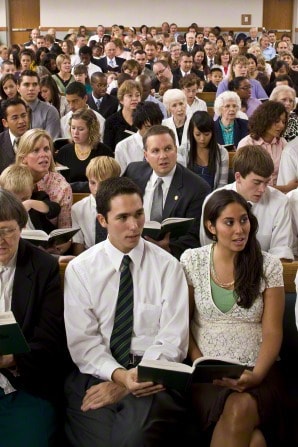 What Is It Like Attending a Mormon Church?
I just barely got back from church earlier today, so I'll tell you exactly what it was like.  Each Sunday is pretty much the same 🙂
Most people dress in nice clothes for church to show respect.  Guys usually wear a white shirt and tie, and women wear a dress or skirt and top.  People usually dress modestly in clothes covering to the knee and shoulders.  But there is no dress code whatsoever.  You'll be warmly welcomed no matter what you wear, but I just mention what people USUALLY wear so you can feel comfortable.  If you show up in jeans and a nice shirt, I promise you'll be welcomed just as warmly 🙂
People try to arrive 10 or 15 minutes before the meeting starts usually.  Today…. I failed.  My family and I walked in late and sat in the back.  As soon as you walk in the doors of the church, you'll see the entrance to the main chapel.  Just walk right in.  There's usually an usher at the door who hands out the agenda.  If you want to, you can tell the usher it's your first time and ask him where to sit, but if you'd prefer to fly under the radar, don't say a thing and just walk right in and find any seat.
There will likely be a couple hundred people attending the worship service.  The meeting usually starts right on time.  One of the local leaders will stand up at the front and welcome everyone and announce the opening prayer and song.  Someone will go to the front and say a prayer, and then the congregation will sing a hymn such as "Nearer, My God to Thee."  If you'd like to sing, there are green hymn books in front of all the pews so you can see the words.  Otherwise, you can just listen to the song.
Then, the local leader will stand up and give any announcements for the group, such as if there's a ward party coming up, or Boy Scout camp for the youth, etc.  Then another song will be performed.
The most important part of our worship service is the sacrament.  In memory of Jesus Christ when he washed the feet of his disciples as recorded in the Bible, we do the same.  Some people will break bread into small pieces and the teenage boys will bring along a tray with small pieces of bread and small cups of water.  This is to remember Jesus Christ's sacrifice for us.  If you'd like to take the bread and water when it is passed to you, you are welcome to.  If you don't feel comfortable doing so, then just say "No thank you" when the teenage boys come to your row.  No problem at all.  There are always some in the congregation who don't feel ready to take the sacrament yet.
After the sacrament, people from the local congregation will give short, uplifting speeches about Jesus Christ, the gospel, prayer, or other topics to help strengthen others.  Our meetings are quite calm and reverent.  Some may even think they are a bit "sleepy" if it's your first time, but as you attend more, you'll see how the things we are taught can really help us to live a happier and more righteous life.
At the end of the speeches, the congregation will sing another song and someone will say a prayer and the first meeting will be over.  But, there is a lot more you can get from church.  After this first meeting, we go to Sunday School.  The kids will separate and go to their classes, and the adults will go to a different class.  You won't have any problem finding out where to go.
There are always lots of visitors at church, so nobody will really know if you're a Mormon visiting from another state, or if it's your first time.  If you'd like, just turn to someone on the row in front of you and say, "Hey, this is my first time visiting a Mormon church.  Are there missionaries here who could help me know where to go?" BINGO!  I promise 100% that you'll be extremely well-cared-for if you just tell someone it's your first time.  We all LOVE being able to share our church with others and sometimes are just waiting to be asked.
During these classes, people will read things from the Bible and the Book of Mormon and help each other.  The classes are taught by members of the congregation who volunteer as teachers, because nobody at our local churches–even the bishops–is paid.  We all volunteer to make the church what it is because we love it.
After the classes are over, we go home!  There is a lot more that happens at church during the week and you're invited to all of it, but Sundays are when we hold our worship services and it's definitely the best way to attend our church for the first time.
Are Mormon Temples Open to the Public?
Mormon temples are different than Mormon churches.  There are many thousands of Mormon churches in neighborhoods around the world, but only about 150 Mormon temples.  The temples are very large, extravagant buildings where we make our sacred promises to God.  Mormon churches are where we go to church each Sunday, have youth activities, etc.
Anyone can attend Mormon churches without any restrictions whatsoever.  The public is always welcome to attend!
All people are invited to attend Mormon temples too.  After a Mormon temple is newly built in a city, or if it undergoes major renovations, there is a period of time when anyone can go tour the building and learn about the temple.
To attend worship services in a temple, all people need to meet certain requirements first.  They are not open to the public unless people are ready to make those sacred promises to God.  For this, we require that someone first attend church for a while and gets baptized, as well as keeps God's commandments.  After that, you'll be ready to go to the temple for more worship services there.
Temple grounds are always open to the public.  In fact, many temples have visitor centers where you can go learn more about the temple.  We just require that people are ready before making sacred promises to God in the temple.