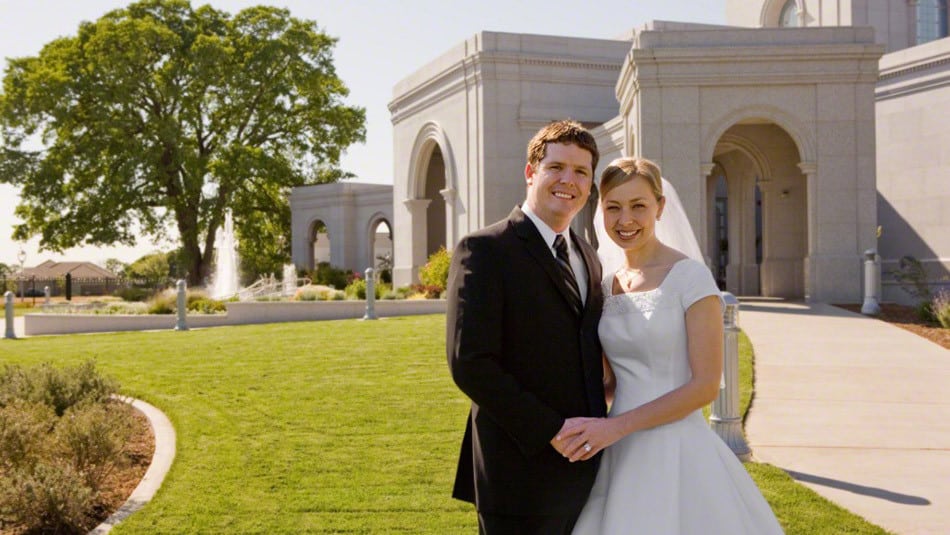 I married my wife when I was 22 years-old, and she was 19.  As a young Mormon, I never felt pressured to marry very young, but it was my choice and looking back, I'm very glad that I did.  My wife and I celebrated our 11th wedding anniversary yesterday.
Young Mormons are taught that creating a family is essential to God's plan and that we should not unreasonably delay marriage as we pursue education and other life goals.  However, there is no defined age for marriage and some Mormons do not get married until later in life.  The average marriage age for Mormons is approximately 4 years younger than the nationwide average.
The strangest thing about Mormon marriages, though, is not the age at which we marry–it is the success rate of those marriages.  The divorce rate of Mormons who marry in a temple is only 6%, while the divorce rate among other religious people in the United States mirrors the non-religious group at 52%.
Despite a diligent search, I was unable to find any researched statistics on the average age of marriage for Mormons, but estimates have put it at 23 years-old, which seems to be in line with my personal guess.  However, it is not uncommon to see young Mormons–especially young women–marry at 19 or 20 years-old.  This is because Mormon young men are expected to serve as a full-time missionary starting at age 18 or 19, while young women in the church are not expected to do so (but may if they choose).
While to some it may seem like getting married at a young age is risky, the statistics on the success of Mormon marriages tell a different story.
Do Mormons Who Marry Young End Up In Divorce More Frequently?
Not at all, and in fact, the opposite is true.  Devout Mormons who marry in a Mormon temple are extremely unlikely to experience a divorce.
The LA Times reported on a study showing that the divorce rate among Mormons who marry in a temple is only 6%.  That is remarkable, considering that the divorce rate among most other Christian religions mirrors the 52% divorce rate among non-Christians.  While this study shows strong support for the success of Mormon temple weddings in general, it does not specifically show the impact age has on the numbers.
The national average age at which all people (not just Mormons) marry is 26.1 for women and 28.2 for men (Source).  Yet, the average age for marriage among Mormons is much younger.  The Deseret news reports "While no known published studies have been done about the age of first marriage in the LDS faith, both local LDS leaders and singles say more and more young Latter-day Saints are getting married at an older age.  The average age of first marriage for LDS Church members is approximately 23, said Jason Carroll, assistant professor of marriage, family and human development at Brigham Young University" (Source).
Combining those statistics, we see that the average age for marriage in America is 27, while the average age for Mormons is approximately 23–four years younger.
Why Do Mormon Marriages End up in Divorce Less Frequently?
The question remains, why do Mormon marriages statistically end up in divorce at a far lower rate than marriages in general?  I believe there are many factors at play.
One factor is that those who wait to have sex until after marriage, on average, fair far better than those who do not.  Mormons are taught to not engage in premarital sex.  "Living together prior to getting married can increase the chance of getting divorced by as much as 40 percent" (Source).
Yet, Psychology Today reports "Statistical trends do suggest that it's best to wait a few years: Divorce is 50% less likely for someone who is 25 years old when they wed, as compared to someone who gets married at age 20."
Teachings from Mormon Leaders on When to Get Married
In our church, we have a prophet and 12 apostles who are ordained to lead the church and to provide the church with revelation from our Heavenly Father.  They have frequently spoken about marriage.
In A Proclamation to the World, the church laid out its doctrinal beliefs on marriage:
"THE FAMILY is ordained of God. Marriage between man and woman is essential to His eternal plan. Children are entitled to birth within the bonds of matrimony, and to be reared by a father and a mother who honor marital vows with complete fidelity. Happiness in family life is most likely to be achieved when founded upon the teachings of the Lord Jesus Christ. Successful marriages and families are established and maintained on principles of faith, prayer, repentance, forgiveness, respect, love, compassion, work, and wholesome recreational activities. By divine design, fathers are to preside over their families in love and righteousness and are responsible to provide the necessities of life and protection for their families. Mothers are primarily responsible for the nurture of their children. In these sacred responsibilities, fathers and mothers are obligated to help one another as equal partners." A Proclamation to the World.
Elder Ballard encouraged BYU students in a November 2017 address to not delay marriage.  When asked about accomplishing educational and career goals, he said to not delay an opportunity to marry the right person.  "You can accomplish both [marriage and educational goals] with hard work, sacrifice, and planning. In fact, with a companion's support, you can be more successful."
Elder Earl C. Tingey in 2007 said, "The Brethren of the Church have a deep and abiding concern that our young single adults know the doctrine of the Church on marriage. The doctrine of the Church with respect to the eternal family is clear."
Mormon leaders have repeatedly made clear that there is no defined age when a Mormon should marry.  Some, despite their most sincere desires, will not have an opportunity to marry the right person at an age when they desire marriage.  For some, marriage may be delayed through no desire of their own.  For these members as with all people, there is a place in the church.  "Some blessings come soon, some come later, and others don't come until heaven, but to those who follow the gospel of Jesus Christ–they come" (Elder Jeffrey R Holland).
Obviously, not all Mormons marry young.  Some, despite a desire to marry, do not for whatever reason find a partner until much later in life.  These members are valued, loved, and respected just the same.
What Is It Like Getting Married Very Young As a Mormon?
As I mentioned in the introduction, I was married when I was 22 years-old and my wife was 19.  We met in college at BYU-Idaho and we quickly realized that we liked each other and felt the same way about the important things in life.  We wanted to accomplish the same things, we both wanted a happy family, and we both loved being together.
After spending a semester together as friends in apartment complexes across the street from each other, we began dating and eventually we got engaged.  We were excited to get married so our engagement lasted only two months before we got married in a Mormon temple in Idaho Falls, Idaho.  I've written before about what happens at a Mormon temple marriage ceremony.
We were still very young and still both in school when we got married.  After I finished my bachelor's degree, we went off to law school together and had our first two kids.
I have no idea what it would be like to marry at an older age because I married young, but I do not regret that choice at all.  In fact, it was probably the best decision of my life.  Because we both were still figuring out "adulthood", we figured it out together.  It bonded us together.
Yes, we struggled tremendously as Emily was staying home to take care of our two babies and I was a full-time (more like double-time) law student, but we struggled together.  We were on the same team and supported each other.  I felt like if we had delayed marriage, this time would have torn us apart, but we were in it together.  For me personally, I believe getting married young had a very positive effect on our marriage and family.